The Challenge: Poor Product Page Design and Complex Checkout Process
Are you experiencing a high bounce rate due to poor product page design or a complex checkout process?
In the current digital age, online shopping has become the norm. With numerous webshops offering similar products, the price often becomes a deciding factor for customers. However, when the price difference is negligible, the webshop with the most user-friendly interface wins the customer.
Our Solution: Enhancing Visitor-to-Buyer Ratio
We recently had the opportunity to assist an online bookstore in doubling its performance.
We successfully enhanced the visitor-to-buyer ratio on their mobile product pages, nearly doubling it.
Common pitfalls in product page design include:
Neglecting mobile-first design
Inefficient use of space
Crucial buying information not visible above the fold (even on mobile)
Hidden buy button
Other buttons, like a wishlist button, more prominent than the buy button
Disorganized presentation of information
The buy button is positioned too far on the left-hand side, despite most users being right-handed
Difficult navigation to the next step in the checkout process after pressing the add-to-cart button
Our Approach: Research and Benchmarking
Our approach involved extensive research on successful online booksellers, large eTailers, and niche bookstores. We observed common traits among the larger eTailers and incorporated these principles while maintaining our client's unique identities. We also learned from the niche bookstores about maintaining online identity, albeit without compromising user experience.
We created a benchmark for the ideal product page in this context based on our findings. Our designer then crafted the first design, which our front-end developer transformed into a new, functional product page with an enhanced checkout process.
The Results: Doubling Conversions and Increasing Additions to Shopping Cart
The results were astounding. A comparison of Google Analytics data showed an 84.57% increase in conversions, doubling our client's business. Additionally, we saw a nearly 47% increase in additions to the shopping cart.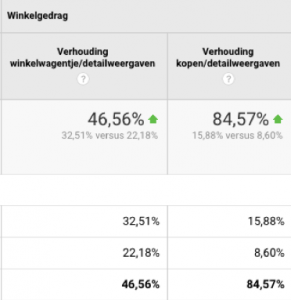 Conclusion: Delivering Exceptional Results
Our client was delighted with the results. By optimizing their design, we significantly increased their conversion ratio, leading to a substantial boost in their business.
At Great Results Online, we strive to deliver exceptional results. Whether it's design optimization, conversion ratio improvement, or overall performance enhancement, we're committed to helping businesses reach their full potential.